Day 8: Yellowstone National Park (423 Miles/8.5 hours)
On the designated pick-up area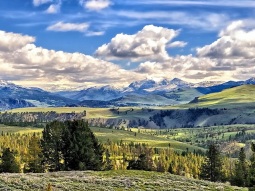 Yellowstone National Park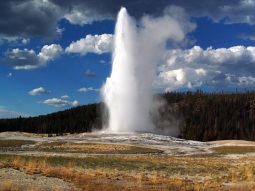 Old Faithful Geyser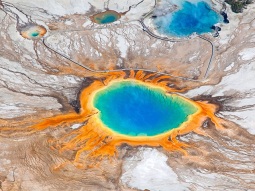 Grand Prismatic Spring
In the morning after we left hotel, will all the way heading to the first national park in the world-Yellowstone National Park. We will ten of Yellowstone's unique scenery over the spans of 2 days, such as Old Faithful, Grand Prismatic Spring and Fountain Paint Pot, Fountain Hiking trail, Morning Glory pool and so on. Spend the night in West Yellowstone.
Yellowstone National Park: the very first national park in the whole world, Yellowstone attracted countless visitors over the year with its unique geothermal activities and fascinating wild life. You will find all four different kinds of geothermal activities, geyser, hot spring, fumarole and mud pot as we take you travel through the park. 
Fountain Paint Pot: walking along this trail will provide you a great view of the light pink color mud pot with its constantly boiling mud bubbles and the fumaroles nearby.
Grand Prismatic Spring: the third largest hot spring in the world, it's the most renowned hot spring in the national park. Setting foot into the area will surround you with steam and allowing you an up close view of the brilliant colors inside the hot spring.
Old Faithful Geyser: the most famous landmark inside Yellowstone, it's also the logo of the national park. Erupting roughly every 91 minutes no matter the weather, this is a must see when you are inside Yellowstone.
Morning Glory Pool: It has always been a favorite of park visitors. One early account raved: "It is precisely like a morning glory flower. Its long and slender throat, like the tube of the blossom, reaching from unknown depths below, branches out in ever-widening snowy walls, forming at last a perfectly symmetrical and exquisite chalice, which is filled with water of the loveliest, clearest, robin's egg blue." 
Old Faithful Inn: As a national historic landmark, Old Faithful Inn is the most requested lodging facility in the park. Built in 1903-1904 with local logs and stone, the Inn is considered the largest log structure in the world. The towering lobby features a massive stone fireplace and a hand-crafted clock made of copper, wood and wrought iron serving as focal points. 
West Yellowstone: A small town just outside west gate of Yellowstone National Park. Best location attracted more visitors to come here and stay there overnight. There a lot of gift stories, restaurants that you can have a wonderful Yellowstone style diner.
Yellowstone Country inn/ Traveler Lodge/ Dude & Roundup or similar