2 hours Grand Canyon tour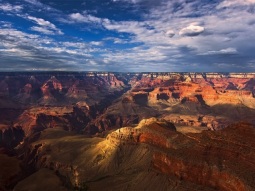 Grand Canyon National Park
Tour the Grand Canyon in our custom, heated Pink Jeep Wrangler. Your expert, local adventure guide knows just where to take you for an introduction to this national landmark. See gorgeous views along the South Rim during your journey to scenic viewpoints.
Your guide has a wealth of knowledge about all aspects of the canyon, from geology and botany to infamous myths and legends. Challenge them with questions to learn much more than you ever could from brochures.
Stop at Grandview Point to see an area of the Canyon that was once mined for copper, gold and silver. In the late 1800s, this area of the Grand Canyon was the first to welcome visitors and mine owners even built a hotel at Grandview Point. Your guide can shed more light on the history of this tranquil, tree-lined locale.
Our guides live and work at the Canyon, so they have unique insights and experiences that enable them to access each viewpoint at the perfect time. Your tour features two other stops along the South Rim, which can vary depending on conditions.
Your tour of the Grand Canyon includes park admission fees and a FREE DVD* of the IMAX Movie, "Grand Canyon: The Hidden Secrets." This timeless film shares captivating canyon history, complete with in-depth looks at the area's indigenous tribes, early explorers and places that few have seen.
Park admission is for tour only. Re-entry to the Grand Canyon National Park requires the purchase of a park pass.
*Due to IMAX theater renovations from Oct. 3 until early 2023, each tour party will receive a FREE IMAX Movie DVD.