Day 5: Jackson, WY - Grand Teton National Park - Yellowstone National Park
On the designated pick-up area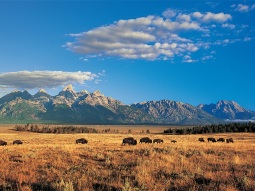 Jackson Hole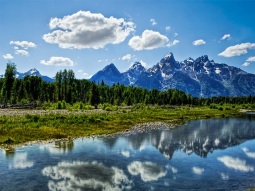 Grand Teton National Park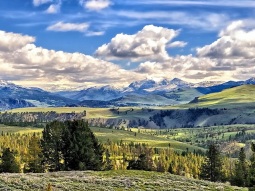 Yellowstone National Park
In the morning, we will head to the small town of Jackson, Wyoming, a famous frontier town during the Western development. Afterwards we will head into Grand Teton National Park passing by Jackson Lake and stop at an outlook to view the Grand Teton Peak. From there, we will take you into the first national park in the world, Yellowstone National Park. We will see 10 of Yellowstone's major scenery sites over the spans of 2 days, including Old Faithful, Grand Prismatic Spring and Fountain Paint Pot. Spend the night in West Yellowstone.
Jackson, WY: famous frontier town, located at the crossing of Grand Teton and Rocky Mountains, it became a heaven for outdoors sports enthusiast. It is also the third largest artwork exchange location in the world and a popular vacation destination for the wealthy. The widely praised Elk Antler Arches Park, with its four arches made with thousands of elk antlers is a must see.
Grand Teton National Park: one of the most beautiful national parks with its snow covered mountain peaks year round and wide range of wild life ecosystem. It even attracted great writer Ernest Hemingway to fall in love with this place and had been the backdrop for countless Western movies.
Yellowstone National Park: the very first national park in the whole world, Yellowstone attracted countless visitors over the year with its unique geothermal activities and fascinating wild life. You will find all four different kinds of geothermal activities, geyser, hot spring, fumarole and mud pot as we take you travel through the park. 
Yellowstone Lake (West Thumb): this is the highest altitude volcanic lake in North America. We will take you to walk along the trail beside the lake and see the tranquil lake view plus all the beautiful sites on the way, like Abyss Pool, Black Pool, and Fishing Hole. 
Old Faith Geyser: the most famous landmark inside Yellowstone, it's also the logo of the national park, erupting roughly every 91 minutes, this is a must see when you are inside Yellowstone.
Grand Prismatic Spring: the third largest hot spring in the world, it's the most renowned hot spring in the national park. Setting foot into the area will surround you with steam and allowing you an up close view of the brilliant colors inside the hot spring.
Fountain Paint Pot: walking along this trail will provide you a great view of the light pink color mud pot with its constantly boiling mud bubbles and the fumaroles nearby.
Traveler Lodge or similar