Day 2: Grand Canyon National Park (BUS or Railway Experience)
Please contact your tour guide for detailed information.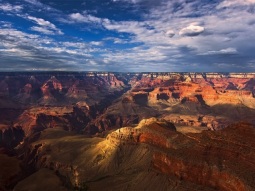 Grand Canyon National Park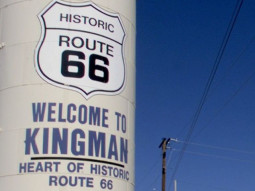 Kingman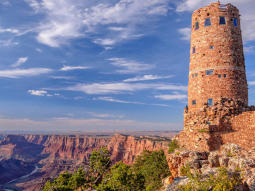 Desert View Watchtower
[Grand Canyon Railway Experience]
It's your time to take a legendary journey to an extraordinary place! The Grand Canyon Railway departs daily at 9:30 a.m. from Williams, Arizona, which is about 30 miles west of Flagstaff, just off Interstate 40. The train travels almost due north to the South Rim of Grand Canyon National Park, arriving at 11:45 a.m. The trip measures 65 miles and takes 2 hours and 15 minutes each way.
This is a completely different experience!the small train can see the beautiful scenery that the car travel can't fully experience, the wild animals, cherish the animals and plants! Upon arrival, will meet with bus tour guests and go to the Desert View Watch Tower.
No matter which class of service you choose, you'll always enjoy a priceless experience with Grand Canyon Railway. Watch a remarkable world go by as you tour the countryside from the comforts of your classic train car. See the terrain change from high desert to prairie, prairie to pine. It's a view that's ever-changing until you come across a view so brilliant, it could very well change you. Welcome to the Grand Canyon.
[Grand Canyon Bus Tour]
If you choose Grand Canyon Bus Tour, we will visit Mather Point at 10.30am, duration about 1 hour. It is close to the visitor center and is one of the best view point in the Grand Canyon National Park. After that, we drive to the Railway Station to join the guests who took the train tour and proceed next stop to the Desert View Watch Tower, another famous viewpoint located at the east gate of the Grand Canyon National Park.
After the tour, go to Tusayan for lunch, and return to Las Vegas.
Things to Know

if the guest chooses to participate Railway Experience, the grand canyon trip will only be visited in a Desert view scenic spot (60min)
Book together when ordering recommended due to this train experience very popular and likely sold out on site.