Sedona - Horseshoe Bend - Lower Antelope Canyon
Depart from Sedona at 7:30am around.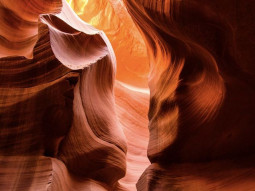 Lower Antelope Canyon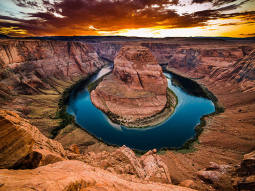 Horseshoe Bend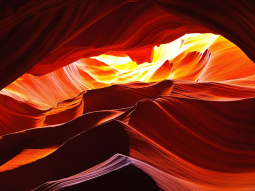 Antelope Canyon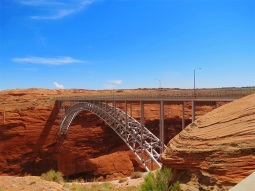 Glen Canyon Dam
Let us take you on a day trip from Sedona to tour Horseshoe Bend and Lower Antelope Canyon. You'll have lunch at scenic Glen Canyon Dam and visit Cameron Trading Post to shop.
We'll pick you up at your hotel in a custom Ford Transit van with large windows, heat and a/c, and head up Oak Creek Canyon through Flagstaff. You'll pass by the Painted Desert and San Francisco Peaks. Heading toward Page, Arizona, you'll pass through the largest native reservation in the United States belonging to the Navajo Nation.
During your Antelope Canyon tour, you'll see how Antelope Canyon was formed - by millions of years of rain waters and wind creating an array of colors and light. Antelope Canyon and Horseshoe Bend are two of the best places on Earth to take photos.
First, you'll hike -miles to Horseshoe Bend. You'll stop 1,000 feet above the mighty Colorado River to see how the bend got its name. A variety of minerals in the canyon walls cause the rock formations to glow. Your cameras will be working overtime.
A short drive to Glen Canyon Dam reveals Lake Powell, and is your spot for lunch. Your expert guide will tell you of the dam's history and the taming of the Colorado River.
Then, it's off to Antelope Canyon, a slot canyon created by floodwaters to reveal some of the most vibrant, natural sights one must see to believe. Here, we'll hand you off to a Navajo guide for a 60 to 90 minute tour of the canyon. Wear closed-toe shoes only. You'll descend and climb steep ladders into and out of the narrow walls of the canyon—this is where you'll be rewarded with one of the unique and dramatic photographic sites in the world.
Cameron Trading Post is next on your tour. This Native American stop is your chance to shop for some souvenirs to go with the stunning photos from your tour. From here, we take you back to your Sedona hotel. Then, you can share photos on your social media pages and text your loved ones.
WEATHER NOTICE: Weather in the region can change rapidly. The flash floods that sculpted Antelope Canyon still occur. For our guests' safety, an alternative itinerary including the Wupatki National Monument, as well as Sunset Crater and Lava Flow Trail will be used when weather makes Antelope Canyon unsafe for visitation.
Pink Java Caf at scenic Glen Canyon Dam