Upper Antelope Canyon Sightseeing Tour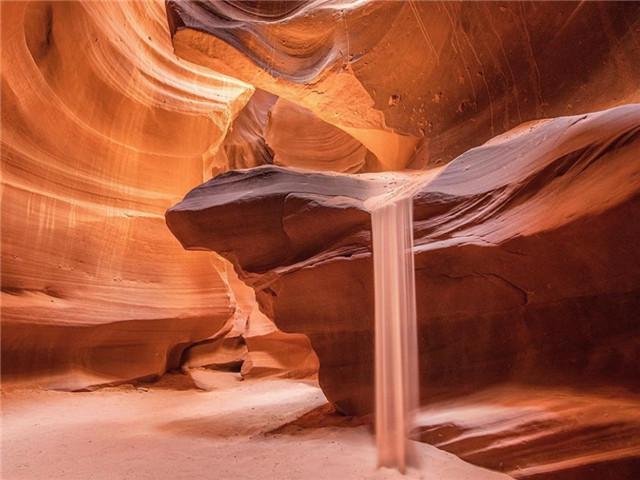 What To Expect
Overview
Antelope Canyon is one of the most famous and beautiful canyons in the world and one of the photographers' favorite spots, located in northern Arizona, the nearest city is Page, Arizona, belong to the Navajo Aboriginal reservation. The Antelope Canyon is divided into two separate parts on the terrain, called as Upper Antelope Canyon and Lower Antelope Canyon.
Upper Antelope Canyon is called Ts bighnln, 'the place where water runs through rocks' by the Navajo. It is the most frequently visited by tourists because its entrance and entire length are at ground level, requiring no climbing; and because beams of direct sunlight radiating down from openings at the top of the canyon are much more common. Beams occur most often in summer, as they require the sun to be high in the sky. Winter colors are more muted.
Our Tours into the Upper Antelope Canyon have a tour duration of 90-100 minutes; this consists of the drive to the canyon which takes 20 minutes (each direction); we spend roughly 50/60 minutes at the canyon. We provide the transportation to the canyon with our 4-wheel drive Tour Trucks. Once we have arrived we will come off the truck and walk inside the canyon, with your tour guide (driver). You can take pictures, hear some local history and most important admire the beauty of Antelope Canyon.
To walk through the canyon is Very Easy - we just simple walk right in at ground level. There are no heights involved, no ladders. Summers are hot and Winters are cold so dress appropriately. The title "Sightseer's Tour" does not imply you cannot take photos - You Can take all the photos you want while on tour.
Activities You May Also Like
Packages
07:00
Departure time from check-in location(This time is only offered for spring and summer seasons))
08:00
Departure time from check-in location
15:30
Departure time from check-in location
Things to Know
Included/Exclude
Antelope Canyon Admission
4x4 Pick-up Truck from Page to Upper Antelope Canyon entrance
Navajo tour guide
Booking service fee
Navajo Nation Permit Fee, $8 per person (must pay in cash)
Ticket exchanging service fee $2 per person recommended
Tour guide gratuities $3 per person recommended
Meet Up/Redemption Information
Location
Time
Address
22 South Lake Powell BLVD Page, AZ 86040

Location and navigation details are shown in the confirmation letter(E-Voucher)

Please arrive at least 1 hour prior to your departure time.
22 South Lake Powell BLVD Page, AZ 86040
Illustrations
Booking and Confirmation Process
Due to high demand, inventory is mostly synchronous but sometimes not. Our consultant will check real time availability onsite and confirm seats.
You will receive your booking information instantly via email. In the event that you do not receive an email from us, please check your spam folder or notify us via email.
How To Use
Terms & Conditions
What is the cancellation policy?
Non-refundable reservations cannot be cancelled or modified once submitted.
What if you miss the appointed time or departure date?
Once the booking is confirmed, an absence or failure to show up on the scheduled date or time is a no-show. No refunds or reschedules will be issued for no-shows and late arrivals
Other important information
Visitors must arrive 1 hours prior to their reserved time to the ticket exchange location and present the PDF voucher attached in the confirmation email and a valid official ID to check in.
Reviews Scores