Visiting Antelope Canyon can be the highlight of your trip to Arizona. As you're surrounded by the red canyon walls, carved by nature over millennia, it's easy to see why the Navajo people hold this place sacred.
Antelope Canyon is a slot canyon, created by water rushing through the sandstone during flash floods. The water carves a winding path through the stone, forming round and waving walls marked with delicate lines.
We visited back in September 2016. It was one of the more expensive items on our itinerary and I had wondered if it would be worth it. It was. In this post I'm going to share with you some insights and tips for visiting Antelope Canyon. I hope these will help you make the most of your trip to this majestic place.
Things you should know before visiting Antelope Canyon –
1. Visiting Antelope Canyon During A Flash Floods Is Dangerous.
When it's raining upstream, tours can be cancelled without prior notice. If you can, travel off-season and leave some room for flexibility.
2. Antelope Canyon Is A Navajo Tribal Park
Some people think Antelope Canyon is a national park. I can actually see why. It would have certainly become a national park had it not been on Navajo land. It is one of several Navajo tribal parks, maintained by tribal authorities.
Oh, and just in case you're wondering. Antelope Canyon is not in Utah. It's in Arizona. I know this may sound silly but people actually Google for "Antelope Canyon, Utah", so worth mentioning.
3. Mind The Timezone
Navajo territory follows Daylight Saving Time (DST) during summer. Most areas in Arizona do not. That means it's one hour earlier in the Navajo reservation.
If you're visiting Antelope Canyon and arriving from outside the reservation on the same day, adjust your timetable accordingly.
4. There Are Two Antelope Canyons: The Lower And The Upper
It is the same canyon but there are two separate points where you can visit: Upper Antelope Canyon and Lower Antelope Canyon. The upper canyon is the more popular one. It's wider and more accessible with the entry point being on ground level. The lower canyon has a narrower and steeper entry point and visitors go down several flights of stairs.
5. Visiting Antelope Canyon Is Limited To Guided Tours Only
The regulations of the Navajo Tribal Parks Authority state that you can only visit Antelope Canyon with a Navajo guide.
Guided tours are available throughout the year for both the Upper and Lower canyons.
You can choose between a general tour which lasts about an hour or a more slow-paced photography tour which can last up to two hours. Park regulations limit all visits to no more than two hours.
There are three official tour companies that can take you to the upper Antelope Canyon. Tour operators can usually pick you up from the town of Page, or you can drive to the parking lot, closer to the canyon's southern entrance and be picked up there. They will then drive you on their 4WD trucks to where the tour begins.
There are two companies offering guided tours to the lower part of the canyon. They are located right across from one another next to the northern entrance to the canyon. Visitors leave their cars in the parking lot and it's a short hike from there to the entrance.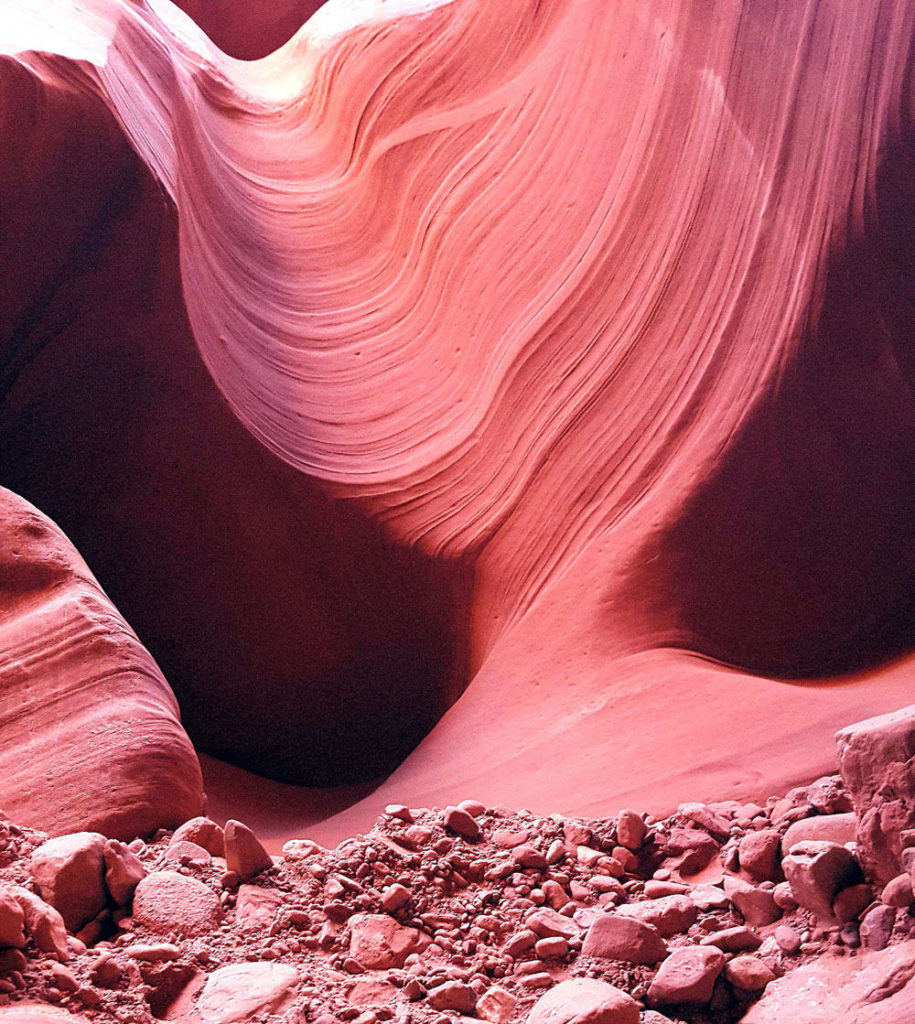 6. Antelope Canyon Entrance Fees
Visiting Antelope Canyon is expensive. The guided tours companies charge $20-$40 per person for the tour itself and there is an additional $8 fee to be paid to the Navajo Tribal Parks.
If you want to save on cash, travel to the lower canyon and start your tour there. It's cheaper than getting one of the tours which drive you to the canyon.
7. Be Prepared To Rough It For A Bit
You'd think that these fairly exuberant fees will get you some tender loving care… but they don't. Visiting the upper canyon, you will be thrown around in a 4WD truck across the desert. Not recommended for pregnant women, or those suffering from back pain and other health issues. Pretty uncomfortable for the rest of us too.
If you drive to the lower canyon, you have to go down (and then up) five flights of stairs. This is what we've done and frankly, the stairs were not much of a problem. However, be prepared for an overall dismal experience before entering the canyon. You're expected to wait for at least 45 minutes in the heat of the Arizona desert – even if you booked your tour in advance. There's some shade but no air conditioning.
The bathrooms leave a lot to be desired too… If you like yours clean and modern, make sure you find a place to go before heading out for the tour.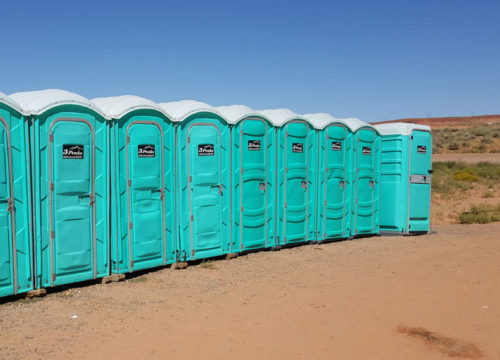 8. Antelope Canyon Accommodation
Antelope Canyon is near Page, AZ – a small town in the Navajo reservation. The town has several major attractions, including Antelope Canyon, Glen dam, Lake Powell, Rainbow Bridge and the Horseshoe Bend.
With so many tourists pouring into town, accommodation tends to be expensive. Make sure you book in advance, or you'll be left with the least desirable spots (and sometimes with none at all).
Visiting Antelope Canyon – Is It Worth The Hassle?
So, between the expensive tour in an expensive town and waiting for an hour in the heat of the desert with no decent bathrooms – should you even be visiting Antelope Canyon?
Yes. You should.
Antelope Canyon is a bucket list item. The rock formations are amazingly beautiful and serene. Yes, the tour is crowded and can even feel a little bit rushed but you'll be spending it feeling in total awe of the beauty of nature.
It's said to be one of the most photographed places on earth. That may be so but truly, it's a place you have to be at in order to experience the magic for yourself. I really don't want the last photo in this post to be that of the nasty toilets, so I'll wrap it up with a few more of the pictures we took during our visit –
Credit to tripmemos.com
Please contact us for removal if there is any copyright infringement.